Thursday, July 12, 2007
Thursday, July 12, 2007 | Original Musings by Jen
|
Edit Post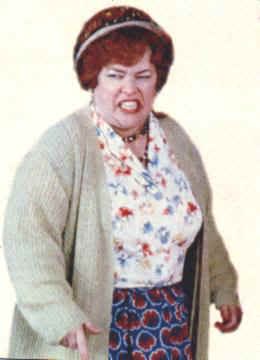 Harry Potter is of da Devil!!!!!!
(haha, I just had to get in a Waterboy comment here somewhere)
puh-lease.
Once again, a group of self-righteous, probably "Christian", groups are proclaiming the Harry Potter is promoting the work of the devil.
Sad to say, many committed Christians miss this key point:
The work is fiction, yet people still fear it.
These same Christians are probably ones that want their kids to read CS Lewis', "The Lion, The Witch, and the Wardrobe" series because Lewis was using these fictional mechanisms as allegory for Bible stories.... not sure that was obvious to me reading it in the 3rd grade, but ok... I'll go with that.
(As a side note, I think it is safe to assume that many of those opposed to Harry Potter have never actually bothered to read that which they are so upset about, and of course should come as no surprise that they have never actually bothered to read the C.S. Lewis books they are so enthusiastic about.)
Would God allow sorcery, magic, and trickery (something he abhors), to be used to promote his Kingdom??? Would drug dealing be acceptable to God if tracts were delivered along with the smack? Of course not!!! (unless you're that preacher in Colorado who thought exchanging meth for gay prostitution was ok.)
This is not to say that Harry Potter has a Christian message, or that J.K. Rowlings' work is on par with Lewis'; far from it! The fact remains that Harry Potter is fiction. I know some people might have nothing better to do than protest this movie, but wouldn't your time be better well spent improving His Kingdom on Earth? READ: Get off your arse and go help the "least and the lost" that Jesus was so concerned about....
This isn't the first time groups like this have gotten their panties in a wad.... remember these instances from when we were kids?
The Smurfs. Yes those cuddly little ficitonal blue characters who ran around the woods singing songs. The Devil works through them, yes it's true. Papa Smurf, well he protects his people with magic.... so it must be evil [end sarcasm].
Also, there was the D&D (Dungeons and Dragons) uproar (not allowed in our home). Apparently, the extremists in the church were not aware that the magic swords and dragons were not "real." My mom was convinced if we played, we would become suicidal and she would "lose" us to the dark side.
In more recent years, the Teletubbies came under fire. (If you can't recall, this was a British TV sensation featuring large fuzzy aliens with rather pleasant dispositions). The character of "Tinkie-Winkie" was said to be openly promoting the homosexual movement. Not sure why he is "more" gay than the others, but the rumor persisted nonetheless.
I am sure there are many more besides these and the additional attacks on Disney, Vampire movies, to other occult movies.
What I find ironic is that these protestors will continue to rally against [fill in the blank cause] rather than do something sensible like spread the Gospel. That is, if the Gospel is really what they are concerned about (which is a whole other blog in my mind).
If your kids wants to stay home from church to read the new Harry Potter book, it's not because s/he's been overcome by witchcraft, it's just simply more interesting than a boring sermon. Kids will do/say anything to get out of church. I know I tried.
Harry Potter does something that our church(es) lacks... engaging children. That is what I think is upsetting the parents (maybe on a subconcious level) more than whitchcraft. I wonder how many of the concerned parents allow their children to watch 1 hour violent dramas such as CSI or Law and Order or many of the others out there?
In the end, What are these parents teaching their child? That fictional evil is more dangerous than the real evils in the world? I am willing to bet these parents have spent more time explaing why their kids can't read Potter than they have talking to their children about poverty, environmental problems, drugs, casual sex, or so many of the other issues that affect our society today.
Everyone needs to stand up for what they believe in, and if you feel Potter or [fill in the blank media] is the greatest threat to the church, our society, and your children.... then PLEASE, put your heart and soul into that cause. We need passionate people out there!
At the same time though, I would encourage each of us to once in awhile step back, reexamine our "causes" and put them in perspective of the bigger picture -- how is this affecting my children, my family, and my community (in that order IMO). If you're worried about it from a Christian perspective... how is this affecting my relationship with God?
Honestly, I don't see where Harry Potter or the Smurfs should even warrant this level of facination or effort.
But that is my view from my pew.
Labels:
Christians
,
family
,
Jesus
,
movies
,
parenting
,
religion
,
society
|
0 comments
Links to this post

Share
Labels
10k
1984
ACLU
activist
birthday
Bonnaroo
Book Review
books
camping
celebrities
charity
China
Chiropractor
Christians
consumerism
consumers
cooking
cooking 101
cycling
dating
deals
death
detox
drugs
education
environment
exercise
facebook
family
fashion
Food
Frugal
gardening
Gmail
government
Green
hacker
health
history
holidays
HomeImprovement
Hope House
human behavior
humanity
humor
hypocrisy
ignorance
illegals
injuries
internet
iraq
Jesus
kansas city
karma
kindness
liberties
life lessons
lists
luck
media
Melamine
mommyness
movies
murphey
music
musings
nelson mandela
news
open water swim
pain
parenting
patriot act
personal
politics
quotes
races
random
rant
Recalls
relationships
religion
RoadTrip
running
Seuss
social responsibility
society
state of fear
swimming
technology
terrorism
TOTM
travel
triathlon
twitter
ultramarathons
UrbanHomesteading
vacation
volleyball
war
weight
women
work
WTF
yoga
Zen
Zinn

Blog Archive

Random Urban Homesteading Links
Quotes as I come across them......
"Pain is temporary. It may last a minute, an hour, a day, or a year, but eventually it will subside and something else will take its place. If I quit, however, it last forever." ~~~Lance Armstrong

"The ultimate measure of a man is not where he stands in moments of comfort and convenience, but where he stands at times of challenge and controversy." ~~~ Martin Luther King, Jr.

"I like running because it's a challenge. If you run hard, there's the pain----and you've got to work your way through the pain. You know, lately it seems all you hear is 'Don't overdo it' and 'Don't push yourself.' Well, I think that's a lot of bull. If you push the human body, it will respond." ~~~Bob Clarke, Philadelphia Flyers general manager, NHL Hall of Famer. (Will-Weber's "Voices From the Midpack" chapter.)

The reason most people never reach their goals is that they don't define them, or ever seriously consider them as believable or achievable. Winners can tell you where they are going, what they plan to do along the way, and who will be sharing the adventure with them.~~~Denis Watley

Perhaps the most valuable result of all education is the ability to make yourself do the thing you have to do, when it ought to be done, whether you like it or not; it is the first lesson that ought to be learned; and however early a man's training begins, it is probably the last lesson that he learns thoroughly. ~~~Thomas H. Huxley (1825 - 1895)



Twitter-me-do...