Tuesday, July 28, 2009
Tuesday, July 28, 2009 | Original Musings by Jen
|
Edit Post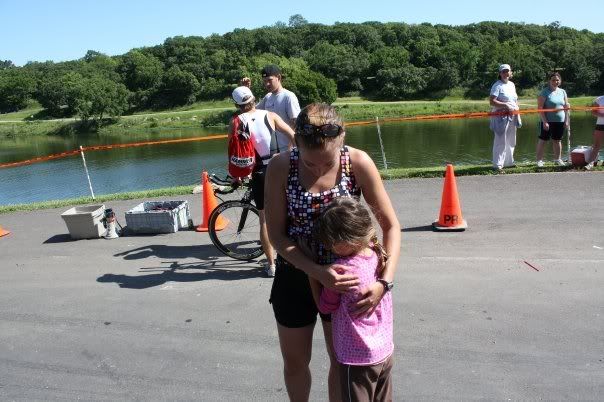 I love this picture. To me, it represents the best moment of the Triathlon (well, the best two).
After the swim I struggled with, I was on my bike, struggling up a hill and struggling to keep my cramp at bay. About the time I was wondering why the hell I was keeping going, I get to the top of the hill and I hear,
"GOOOOOOO MOMMMMMMY!!!!!!!!!!!!!!!"
really loud.
My brother, future SIL, and my daughter were at this intersection. Fortuitously they were late and unable to enter the park and the Sheriff had stopped them at an intersection. The first intersection at the top of the first hill of my 12 mile ride.
It was meant to be.
At that moment, the race was no longer about protecting my ego and simply finishing to avoid the embarrassment of a DNF. Now, it became something much bigger and much more important. It was about showing my daughter the results of those workouts I had sacrificed some of my precious time with her for (as a single parent, I feel so much of our time is eaten away by "have tos"). I needed to show her that you don't quit.
Most importantly, I couldn't let my 7 year old down.

This hug post race meant the world to me, and I'm so glad my friend captured this picture, because to me, it emodies the spirit of my race.
(if the moment on my bike was the best moment, finishing was the 2nd best!)
Share